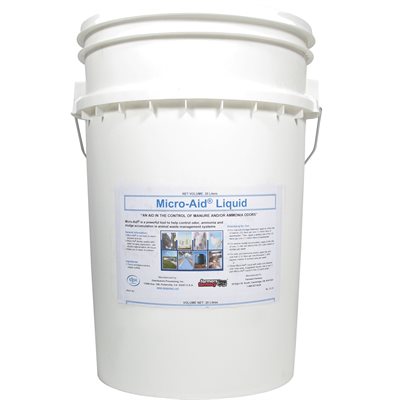 Double-tap and hold to zoom.
Mouse over image to zoom.
MICRO-AID LIQUID 20L
Product Code: 634716
Micro-Aid® liquid is proven technology that has been shown to help producers in many ways, such as: reduce manure (NH3) Ammonia levels by 40 to 60% (proven through extensive research), Reduce noxious gases including sulfides and phenols, (CH4) Methane and (H2S) Hydrogen Sulfide, reduce volatilization of ammonia resulting in a higher nitrogen level being retained within the manure and an increased manure value when used as a fertilizer source on cropland, improve the barn environment for the welfare of livestock and barn workers, enhanced air quality, reduced stress and discomfort resulting in better health, faster growth and improved efficiency, and results in increased liquefied manure therefore requiring less agitation, easier pump-outs and lower energy costs.