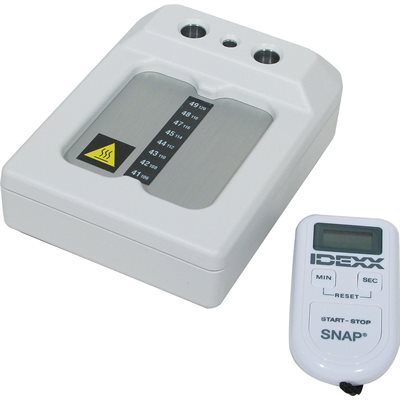 Double-tap and hold to zoom.
Mouse over image to zoom.
SNAP HEATER
Product Code: 696594
The SNAP Portable Heater is a self-contained heater designed to incubate two IDEXX SNAP Tests in compliance with current test protocols found in the instructions supplied with the SNAP Test Kits. The heater is preset to deliver a consistent incubation temperature of 40-50 degrees Celsius. Wall outlet power supply and vehicle power adapter included, as well as timer. SNAP Beta Lactam Test Kit will detect penicillin, amoxicillin, ampicillin, ceftiofur, and cephapirin residues in raw, commingled cow milk. SNAP Tetracycline Test Kit will detect Tetracycline, chlortetracycline, and oxytetracycline residues in raw, commingled cow milk.
You May Also Be Interested In