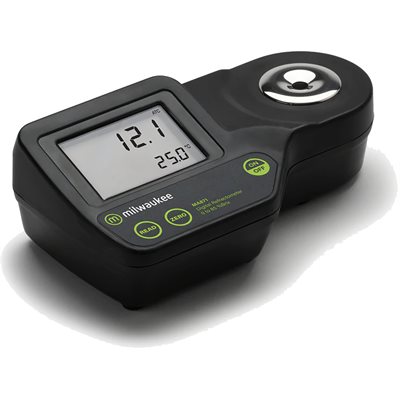 Double-tap and hold to zoom.
Mouse over image to zoom.
DIGITAL REFRACTOMETER
Product Code: 639951
Test your colostrum with the Milwaukee digital BRIX refractometer. Colostrum readings of 22% or higher is top quality, 18-21% should be used for second feeding and readings of 17% or lower are for regular feedings. For whole milk the reading should be 10.5% or higher, if it is lower than 10.5% supplement with Milk replacer. This refractometer automatically compensates for temperature with a 0 to 85 percent BRIX range and +/- 0.2 percent accuracy. It is easy to use with simple two button operation and fast with a response time under 2 seconds. Maintenance is a breeze also with an easy-to-clean sealed flint glass prism and stainless steel well. Two year warranty. CSA approved.