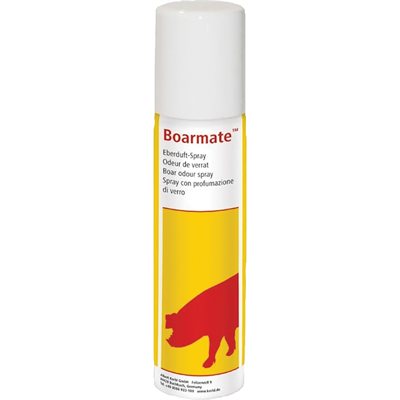 Double-tap and hold to zoom.
Mouse over image to zoom.
BOARMATE 250ML
Product Code: 699733
Boarmate™ was developed for farmers and breeders who need help determining the best fertilisation time for sows and gilts. Boarmate™ stimulates sows and gilts and they display a clear standing reflex as soon as they are ready for mating. This is the ideal time for insemination. When used correctly, Boarmate™ can be used to resolve problems experienced with recognising when sows and gilts are in heat in the absence of a boar and increase the chances of success of artificial insemination.Application:Spray from a distance of approximately 60 cm directly onto the nostrils of the gilt or sow.Spray for 1 second and apply pressure to back of the pig.If animal shows a stare reflex, it is ready for insemination.The can contains approximately 45 seconds of spray. Enough for 45 applications.Warning:Pressurized container. Protect from the sun and do not expose to temperatures above 50°C. Do not pierce or burn, even after use. Do not spray on a flame or any incandescent object. Keep away from sources of ignition. For use in animals only. Avoid spraying Boar-mate on hands or clothing. Wash hands immediately after use and change contaminated clothing. Do not inhale the spray.
Case Qty: 12
Availability: Out of stock